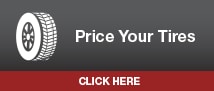 The right tires not only help contribute to your vehicle's handling and performance, but can also impact fuel efficiency and safety as well. If your tires are showing signs of wear, you can get exact replacements for the original tires at a competitive price at Labadie Auto Co. Service Center. Our factory trained and certified Toyota technicians will ensure that your tires are mounted, balanced and inflated to match your Toyota vehicle's specifications.
View our competitive tire prices by clicking on the "Price Your Tires" button to the right and simply provide your vehicle information and the tires that you are interested in. Keep your Toyota a Toyota by replacing your original tires at Labadie Auto Co. Service Center conveniently located in Bay City.
Here at Labadie Toyota we know how important it is to keep your Toyota in proper working condition-it's protection for yourself, your loved ones and your investment. Our certified technicians use only the best when we perform any type of maintenance, and for oil changes, we use Genuine Toyota Motor Oil and Genuine Toyota Oil Filters. Both are specially formulated to keep your Toyota running at its best and you at the top of your game.
Genuine Toyota Motor Oil
Formulated with a special additive package that helps protect Toyota metal and gasket surfaces from corrosion, prevents foaming and maintains the proper application of oil on cylinder walls.
Available in 5W-30, 10W-30 and 10W-40 grades
Four-point depressants maintain fluidity in cold climates
Viscosity index improvers stabilize viscosity levels for a wide range of operating temperatures
Synthetic Motor Oil
Many new Toyota models are certified for a new, zero weight synthetic lubrication standard, or 0W-20. This lower viscosity oil pumps better when cold, yet provides uniform lubrication, reduced friction and better overall efficiency than conventional engine oil.
Improves fuel economy
Improved thermal stability
Longer oil change intervals
Genuine Toyota Oil Filters
Help protect your engine against dirt and other contaminants that can cause internal wear, while allowing adequate flow to internal engine components. These oil filters incorporate safety features like a bypass valve to help prevent restricted oil flow in the event of a clogged filter, and an anti-drainback valve, which prevents oil from draining from the engine into the oil pan during cold starts. Remember, not all oil filters meet Toyota's stringent specifications. A non-Toyota filter element may not work as effectively and could even clog, causing costly engine damage. To protect your engine (and your pocketbook) always specify a Genuine Toyota oil filter.
When it comes to getting an oil change, many customers feel more comfortable going to someone they know will do a great job with their new or used Toyota vehicle. That's why Labadie Toyota provides quick lube oil and filter services for our customers.
You don't have to purchase a car from our dealership in order to get it serviced here. We offer the recommended transmission oil change services to any new and current customer in the Bay City, Saginaw and Midland, MI areas.
In addition to oil change services, we also offer tire rotation, brake service, and more. To schedule an oil change or other service, please call our Service Department today!